We worked with these clients a few years back to decorate their family room, and were honored to be asked back to help with their new renovation project. Our clients wanted to channel a cool California style that was breezy, relaxed and welcoming. We relied heavily on mill work details, a warm neutral pallet and textures to do just that. Our lighting choices also helped to tell our story; we especially love the pendants over the island and the quint essential California woven pendant in the dining room. We enjoyed accessorizing this project with vintage finds and artwork to set the mood and bring even more charm into these spaces.
It was a total joy to work with these clients on furnishing their colonial home. Our clients moved from a 3 bedroom apartment in New York city into this beautiful suburban home with their young children. We added some custom mill-work and wallpaper in a few special spots to give this home some added character. The aesthetic concept here combined mid century modern with more traditional pieces to create a lived in but elevated style. By using colors, textures, and patterns we created a cohesive palette and feeling throughout their home.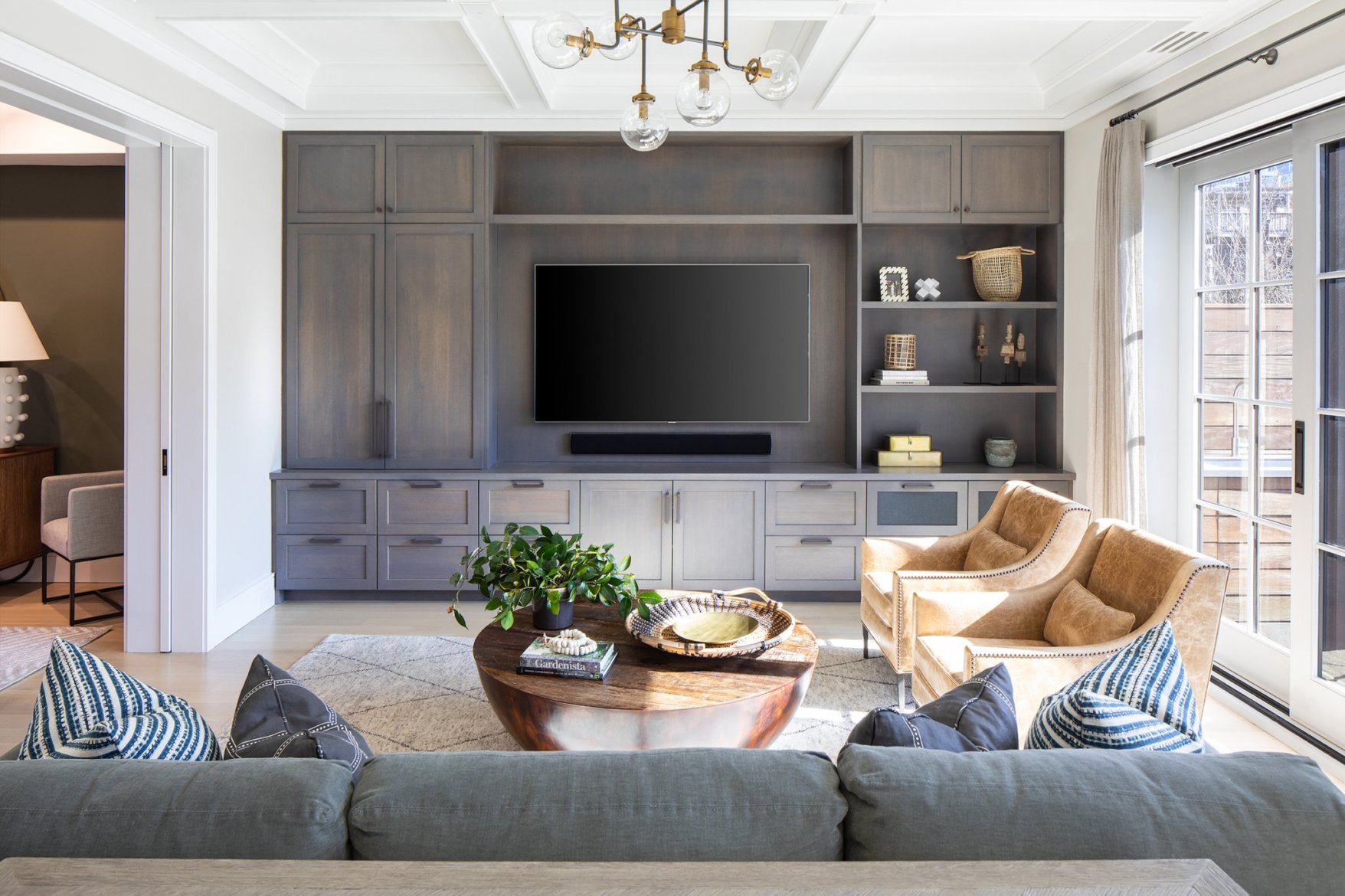 This renovation was a special one, as we worked with the home owners to transform a carriage house and a 20' wide brownstone into an expansive single-family home in the heart of downtown for their young family of 4. We worked tirelessly with the architect and builder to design a home full of custom details and special moments. This project was a labor of love that lasted 2 years – which made it even sweeter to see everything come together at the time of installation.
The young family who purchased this house was looking to achieve a cool California feel with a mid century lean – each room tells this story. We used textures, pattern, mill-work and wood tones to create a layered feeling throughout the home.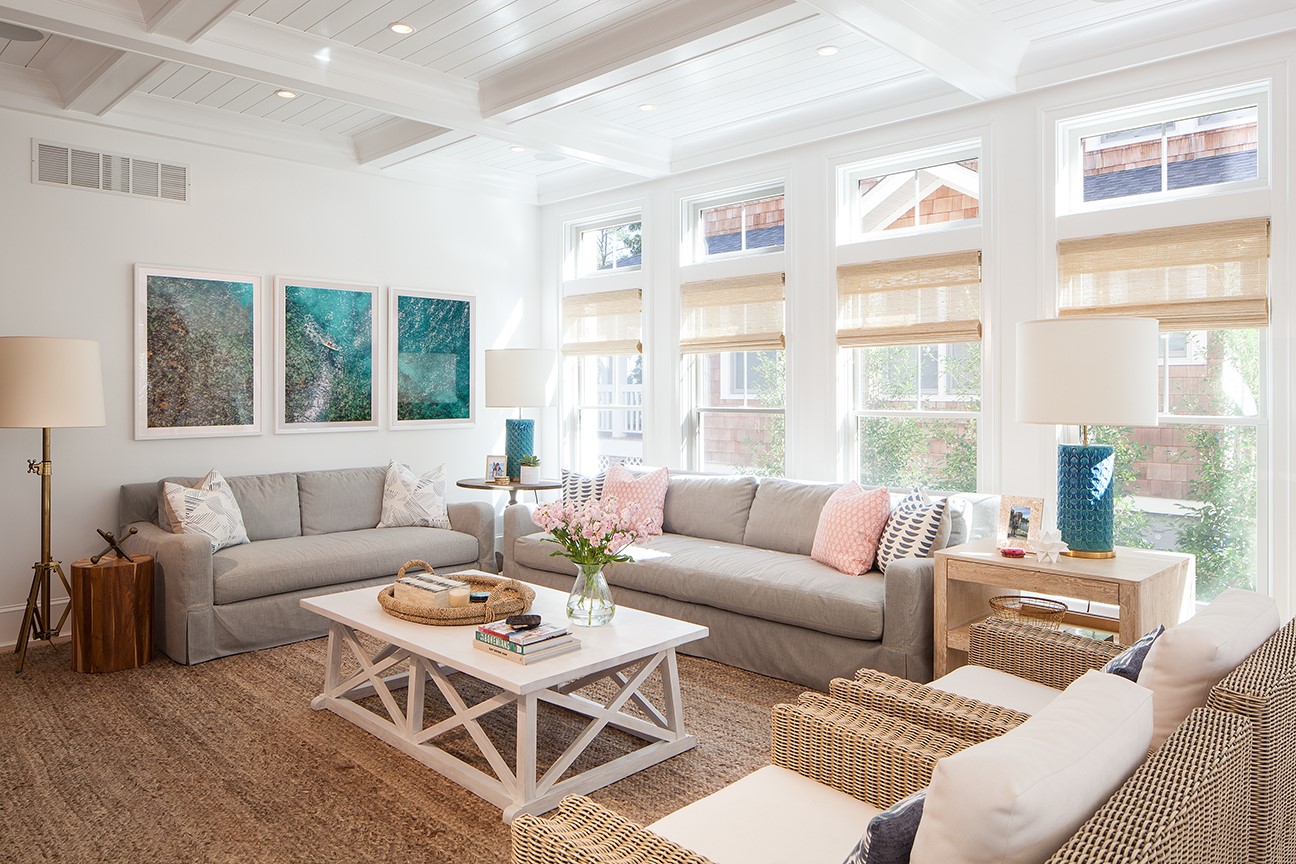 We worked with the homeowner for the second time to build their beach house in Delaware. From the ground up we conceptualized each and every space from layout to materials all the way through installation. Our love of shiplap runs deep and we used it in just the right amount of places here to create a beachy cottage feel. Textures and neutral tones help round out this full-scale new build.
We enjoyed working with our client for the 3rd time on this interior/exterior renovation and face lift. By finding elements of the existing home we liked and wanted to play up and by deleting some less desirable architectural elements, we infused new life into this classic Westchester home. While reusing some existing pieces of furniture from their previous home, the majority of the furniture was custom selected to provide this family of four a refined and pulled together look with a lived-in feel, while still being durable and kid friendly.
We collaborated with our clients on a kitchen and bath renovation and during the process they asked us to decorating several of their living spaces— we were happy to oblige. The goal here was a casual and collected space that felt fresh and cool but still rooted in classicism. We used a lot of black and white in the home to create moments of contrast and significance.
This upper Montclair home had beautiful bones, but hadn't been touched in several years. The client had classic east coast taste and we wanted to bring that sensibility into each room we touched. Throughout the home we used neutrals with quiet accent colors to create a sophisticated color palette that will stand the test of time. We created a classic and simple home that will remain to feel as such for a long time.
On this project we worked with the homeowner to take a home that was chic in its 1990's hey-day, and updated it with paint and new furnishings. Although the house didn't undergo any renovations, we were able to establish a transitional feeling throughout. With a neutral color palette, furniture with sinuous curves, wallpaper choice and colorful artwork by the likes of Sally King Benedict and Kate Long Stevenson we achieved a transition aesthetic our client was aiming for.